Author, Fighter, and Martial Artist

Keith Vargo
Keith Vargo is a writer, fighter, and martial artist based in Tokyo, Japan. He was a contributing editor for Black Belt magazine for 17 years, where he wrote the popular monthly column, "Way of the Warrior." He has also written for FightSport magazine, Karate/Kung-fu Illustrated, Sports World Japan, Maxfighting.com, and MMA-Japan.net. Click on the links on the right to read some of his essays.

Keith is also the author of The Soul of Fighting: Martial Arts, Combat Sports, and the Search for Warrior Wisdom and Philosophy of Fighting: Morals and Motivations of the Modern Warrior. Those books are collections of his best columns, spanning nearly two decades of writing for Black Belt. The books explore how morality, mysticism, aesthetics, science, and human nature cross paths in the fighting arts. Click the covers in the left column to learn more about them or order a copy.
Martial Arts Background
Keith began his martial arts training in 1984 under judo champion Jordie Hamilton. He later attended Radford University, participating in the United States' only college-level martial arts training program. In 1996 he graduated from Radford with a B.A. in Psychology and a Certificate in Multi-Cultural Self-Defense.

Since moving to Tokyo in 2000, Keith has devoted himself to mixed martial arts. He trained for 10 years at the world-renowned Takada Dojo, where he learned from top fighters like Kazushi Sakuraba, Akira Shoji, and Yoon Dong Sik. He was also the first non-Japanese to earn a shodan (1st degree black belt) from Takada Dojo. More recently, he has trained with Shooto legend and ZST tag-team grappling champion Naoya Uematsu and welterweight grappling champion Kohei Yasumi.
Fight History
Keith's writing is informed by his experiences as an active competitor. He fought both as an amateur in Pre-PRIDE, PRIDE Challenge, and Shootboxing, and as a pro or semi-pro in DEEP, BoxFight and Kingdom Ehrgeiz events. Keith has fought in many submission wrestling matches and tournaments as well. Below is an outline of his competitive history. For more details and additional pictures, click on the links under "Fight Results" in the left-hand hand column.
In 2001, Keith participated in Tokai TV's Pre-PRIDE, an MMA reality show. The fighters on the show trained at the best gyms in Japan for a few months and then fought each other in an 8-man, one-night tournament. The prize was a chance to turn pro and fight in a PRIDE Fighting Championship event. Pre-PRIDE helped launch the careers of many fighters, including UFC fighters Yushin Okami and Eiji Mitsuoka. In the Pre-PRIDE 3 tournament, Keith made it to the final match, but lost by decision. The picture above is from that match. On the left is the late Naoto Morishita, the first president of the PRIDE Fighting Championships, watching the action.
Keith's best showing came in March 2007, when he took part in the 17th All-Japan Amateur Shootboxing Tournament. Winning this tournament is often a stepping stone to a pro fight career. In the past, it's been won by top fighters like shootboxing welterweight champion Kenichi Ogata and MMA star Hayato "Mach" Sakurai.
Again, Keith fought three times in one day. This time, he won all his matches decisively, even knocking his opponent down three times in the final match. With that win, he became the 2007 All-Japan Amateur Heavyweight Shootboxing Champion.
Keith's best MMA performances were in DEEP and Kingdom Ehrgeiz events. In June 2007, he fought in an event for the DEEP promotion called Oyaji DEEP. It was an event for older fighters that was broadcast on Samurai TV. In it, competitors age 35 and up fought under full MMA rules. Keith was matched up against a judo black belt and scored a TKO in 14 seconds, his fastest win.
Keith's fight in Kingdom Ehrgeiz was at their 10th Anniversary show and he fought under the name "John Gabriel." It was a Kingdom-rules match, meaning MMA rules with pro-wrestling rope escapes and "catch" points for near submissions. His opponent was bare-knuckles karate fighter and bench press champion Mitsuyuki Kanaya. After a brief exchange of punches, Keith clinched, scored a takedown and finished the fight with an arm lock at 1:27 of the first round.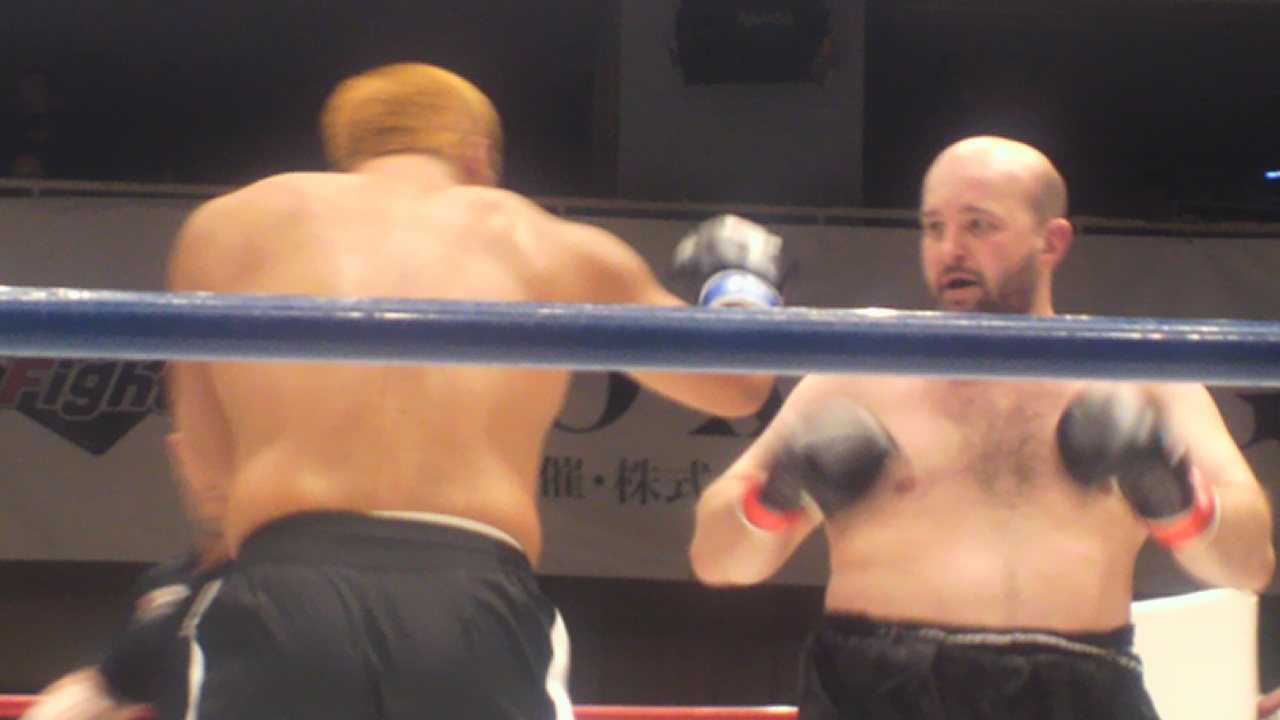 Shortly after turning 40, Keith fought the biggest fight of his career, a professional boxing match at Tokyo's fabled Korakuen Hall. He fought in front of a packed house on the BoxFight: First Impact undercard, sharing the bill with K-1 kickboxing champ Hiromi Amada and MMA legend Daiju Takase. Again, Keith fought under the ring name "John Gabriel" and was matched up against 27 year old MMA fighter Eisuke Suzuki . Keith stayed competitive with his younger opponent by relying on defense and counterpunching and ended up winning the match via majority decision.
In addition to MMA and boxing, Keith also fought in submission wrestling matches and tournaments. In August 2016, he entered the 1st Asian Combat Wrestling Tournament and, at the age of 46, managed to place first in both the men's 100+ kilo division and the master's A (over 40) 100+ kilo division. Keith also placed 1st at the 2017 World Combat Wrestling Championships in the men's veterans B (over 45) 100+ kilo division. His most recent professional grappling match was in November 2013. Then 43, Keith fought 25 year old Pancrase and DEEP veteran Tatsuhiko Nishizaka to a draw at the Kingdom Spirit 2013 show. But Keith's biggest grappling match was in January 2010. He fought PRIDE, K-1, and UFC veteran Satoshi Honma in the DEEP X Future King tournament, beat him via judges' decision and won the heavyweight division.
Current Projects
Keith is currently working on Kakutougi Boom: Reports from the Glory Years of PRIDE and K-1. This new book will be a collection of fighter profiles, interviews, and event reports written by Keith during the reign of those two legendary promotions. Readers will get to see the events through the eyes of someone who was there for one of the most exciting and controversial eras in the history of fighting sports. The book will be out in 2018. Until then, readers who'd like a preview can check out the free sample of Kakutougi Boom in the "Coming Soon" section on the left.

After finishing that book, Keith will return to working on an account of his two decades of living, training and fighting in Japan. It will explore the meaning of the martial arts through his experiences in the training hall and in the ring. Readers will go along with Keith as he encounters centuries-old fighting arts, tangles with pro-wrestlers, tries to navigate Japanese martial culture, and fights a guy he used to watch on pay-per-view. Readers will also get insights on being a martial artist in the 21st century, as Keith tries to square the high ideals of the martial arts with the brute facts of competition.
"Race and Self-Defense"
by Keith Vargo
(December 2014)
Back in 2014 I wrote this piece on race and self-defense for Black Belt magazine. Sadly, the problems it addresses and the tragedies that inspired it are still a part of American life. After talking to friend and martial artist Chuck Johnson, who encouraged me to write it in the first place, I decided it was worth putting out there again. It's not much, but I'm hoping this old column contributes something to understanding this moment and what it means to us as Americans and martial artists. -KV (June 5, 2020)
********************
Recently I wrote a column about women's perspectives on self- defense and how they differ from men's. The focus was on how the threat of sexual violence and domestic abuse shape their perspective. The point of the column was that men need to understand this in order to be good training partners, better instructors and, frankly, decent human beings.
After that column came out, the shooting death of Michael Brown by a police officer in Ferguson, Missouri became a national issue. Brown was a young, unarmed black man and the police officer that shot him was white. Like the Trayvon Martin case a few years before, the shooting in Ferguson brought the issues of race, safety, and self-defense into sharp relief. In much the same way that men and women live differently because they face different dangers, race changes the threats you face and how you deal with them.
One difference that has become part of the national discussion is "the talk" that black parents give their children, especially boys on the verge of manhood. That talk is about how they will be perceived as threatening or dangerous and how that affects their safety. Black parents often give very specific advice, like keeping your hands on the steering wheel when the police pull you over and telling the officer before you reach for your license and registration, so he doesn't think that you're reaching for a gun. Do any white parents do this? Mine didn't. In fact, I'd never heard of anyone, black or white, getting a talk like this until a few weeks ago. But for black people in the United States, it's considered crucial to everyday survival.
That difference is what we have to confront, both as people and as martial artists. As people, we need ask some hard questions about why the everyday experience of being a minority is so different and work toward ending the very real dangers they face. But as martial artists, we have to deal with the world as it is now and consider those dangers as facts of self-defense.
Of course, martial artists of color are abundantly aware of this. They don't need a white guy like me to tell them about the dangers they've faced all their lives. But what happens when you're white and you're teaching minorities? You have to reevaluate what you teach and ask yourself if you're really giving your students what they need to survive dangerous situations. For example, situational awareness is one of the first principles of self-defense. But does it mean the same thing to a middle-aged, white man as it does to a young, black man? Obviously not, or "the talk" wouldn't be a necessary part of growing up black. Also, if you do scenario-based training, do any of your scenarios reflect the kind of deadly encounters minority students might face? Do you teach them how to handle being mistaken for a criminal by the police and not get shot by accident? These are the kind of questions all instructors should ask themselves. But as a white man who has taught black students, I now wonder if I really gave them what they needed to survive bad situations.
The way to remedy this is to simply listen to what people of color have to say about the dangers they face and take it seriously. In my case, I talk with tae kwon do master and self-defense instructor Chuck Johnson. He's a black American living in Tokyo and we've been friends for years. When I first learned about "the talk", I asked Chuck if his parents had given it to him when he was growing up. That lead to many long conversations where I learned a lot of things that I'm ashamed to say I'd never thought of. One of the things that really stuck with me was Chuck's description of the fear that black parents feel when their sons don't take "the talk" seriously. It's the fear that their boy will become the next Michael Brown or Trayvon Martin before they wise up. As I write this column, my own six-year-old, mixed-race son is sitting beside me, playing with his toy trains, and the thought of what many black parents go through hits me like a hammer in the chest. I can't imagine losing my boy. Am I going to have to give him a version of "the talk" someday?
The best part of talking about these things with Chuck is that we're talking about them at all. It may seem like a small thing, but simply asking a person who is so different from you what their life is like is the beginning of understanding and the antidote to ignorance and prejudice. For martial artists, it's about understanding more than the social or psychological blind spots we suffer from. It's about understanding how race makes a difference in the threats people face and the help they need to survive them. It's just another way that the things that make us better at our arts can make us better people and, hopefully, make the world a better place.